About the Session
Video Transcript
Hello to the Deaf and Hard-of-Hearing community!
Ever wanted to get a speech-to-text interpreter (notetaker) or sign language interpreter for an event or class, but felt unsure on how to explain to the organisers? Or perhaps you feel frustrated that you have to keep paying for notetakers and interpreters out of your own pocket.
Equal Dreams is organising an information session for the Deaf/HoH community to address these two common issues.
In this session, you will learn the following. First, how to request for access services from your organiser, and explain the purpose of access services. Second, how to apply for funding to cover access services if you have to pay for them yourself. Two funds you can use are the Equal Dreams x Mediacorp Enable Fund, and the Temasek Trust-CDC Lifelong Learning Enabling Fund.
There will also be a short survey done at the end to help us better understand barriers the community faces when applying for access services.
If you would like to register, head to the link below.
https://tinyurl.com/DeafInfoSession
Hope to see you there!
---
End of Transcript 
This is a 1 minute 53 second video of Deaf Interpreter Hau En signing in Singapore Sign Language against a plain background.
Session Details
Date: 2 July 2022 (Saturday)
Time: 2pm to 4pm
Venue: ITE College Central, 2 Ang Mo Kio Drive, Blk D, Level 2, Enterprise Development Centre, Singapore 567720
Access Services available: Singapore Sign Language and speech-to-text interpretation (notetaking) will be provided at our event
Post-Session Video
Video Transcript

Video is 39 seconds long, and consists of a montage of video clips and images of the event. Upbeat electronic music plays in the background.
A clip of interpreters Azzam and Clara appear one by one, who are seen signing.
Event name appears as supers: Getting Deaf Access for your Lifelong Learning, Info Session by Equal Dreams.
Participants are seen settling down.
The sign language interpreting team, Azzam, Clara, and Hidayat, are seated doing SgSL to English interpreting in the audience.
Two speech-to-text interpreters, Shila and Nicole, are pictured typing away at the live transcript on their own device. The transcript is projected on a large screen in the event space.
Nix and Evelyn, speakers for the event, are using sign language as their mode of communication to present the content.
Deaf participants are shown coming up to the front of the room to share their experiences.
Video ends with various snapshots of the event, such as participants interacting with the speakers, the speakers presenting, and the interpreters at work.
Ending copy: Interested in getting access services from Equal Dreams? Write to us at services@equaldreams.sg.
---
End of transcript
Thank you to all participants who came down and actively participated in our very first external event:
Getting Deaf Access for your Lifelong Learning.

Hope that everyone had a fruitful learning session, and a shout out to the funding representatives who came down to learn more about the access requirements of the ​​community.
Gallery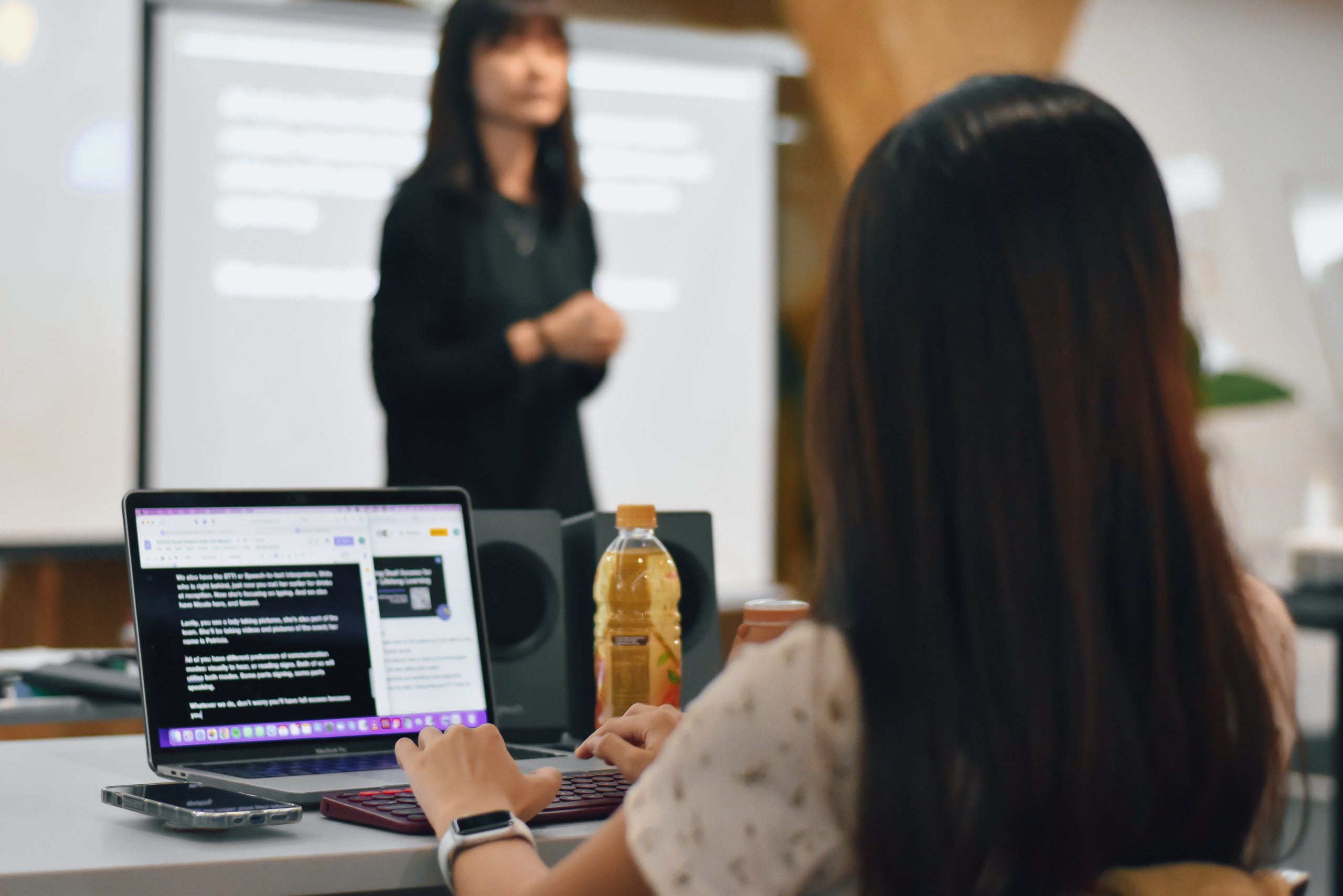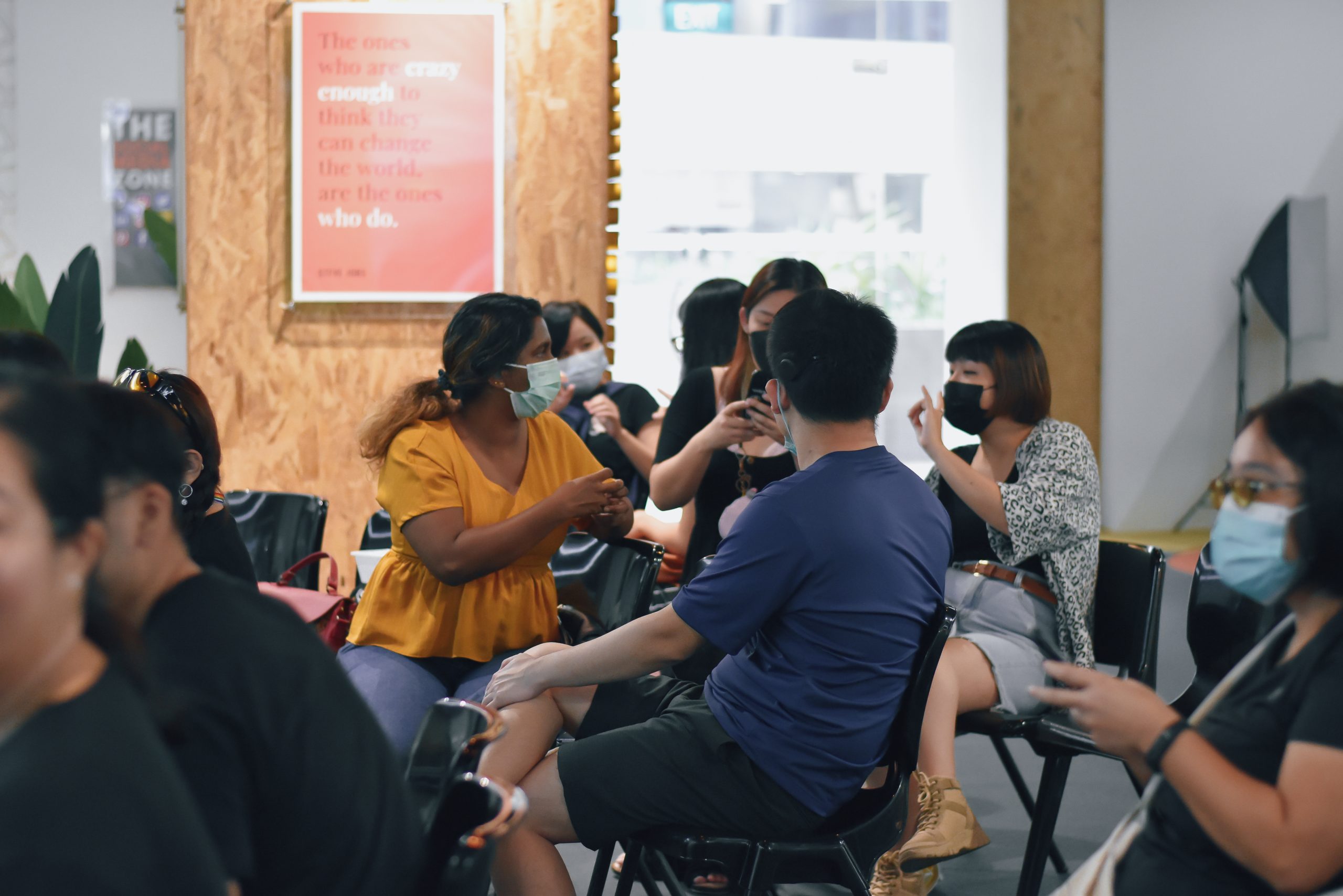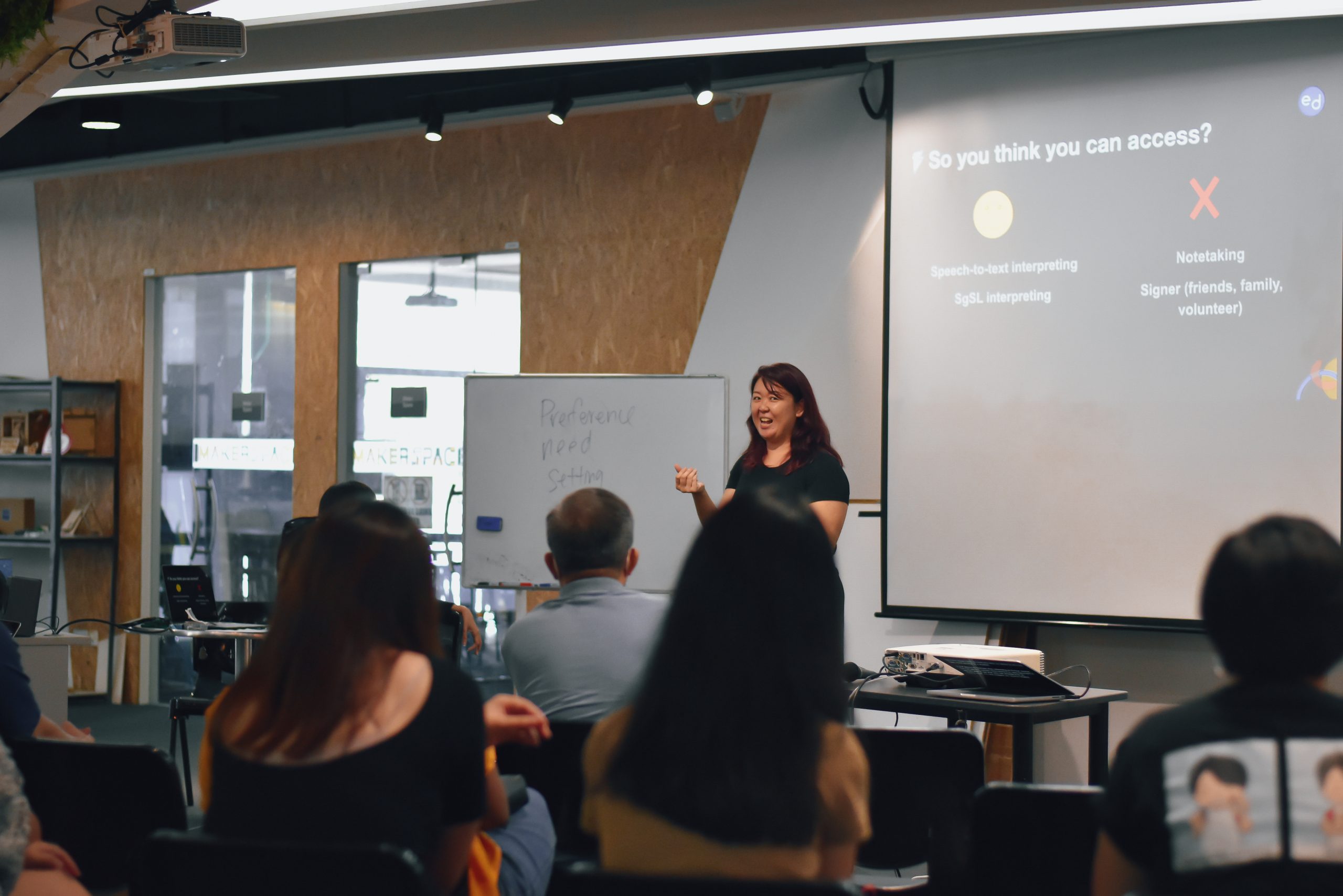 Post-Session Notes
The event is now over. Those from the Deaf/Hard-of-Hearing community who did not manage to attend the session may write in to us at hello@equaldreams.sg to request for post-session notes.
If you would like to see more of such events from us, feel free to email us and share your thoughts!