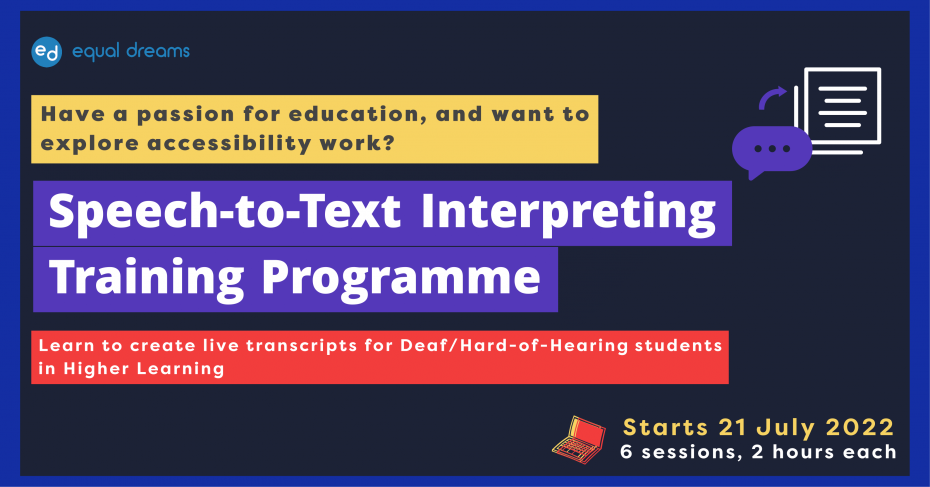 Schedule: July/August 2022 Intake
Total contact time: 12 hours (6 sessions of 2 hours each)
Estimated preparation time: 2 hours per week
Session 1: 21 July, Thursday 7.30pm to 9.30pm
Session 2: 28 July, Thursday 7.30pm to 9.30pm
Session 3: 4 August Thursday 7.30pm to 9.30pm
Session 4: 11 August Thursday 7.30pm to 9.30pm
Session 5: 17 August Wednesday 7.30pm to 9.30pm
Session 6: 18 August Thursday 7.30pm to 9.30pm
Venue
Zoom (online)
Programme Description
Speech-to-text interpreting, more commonly known as Notetaking for the Deaf and Hard of Hearing, provides meaning for meaning transcription to aural information. This form of access service is utilised in both online and in-person settings learning environments by Deaf and Hard of hearing individuals who prefer to access information by text instead of or in tandem with sign language interpretation. 
Speech-to-text interpreters focus on conveying the meaning of what is being said, in contrast to verbatim speech-to-text services. This reduces what the consumer has to process visually and still be able to access the same amount of meaningful information. This is achieved through the use of shorthand, eliminating filler words, and condensing connected thoughts whenever possible. The transcription also includes any relevant non-verbal auditory information.
Through theory and practical hands-on components, this course equips the participants with the cultural knowledge and technical skills to perform the role of a speech-to-text interpreter, thus providing equitable communication access to the Deaf and Hard of Hearing community. The focus of the training will be higher education settings.
Learning Outcomes
Participants gain knowledge about Deaf culture and the community with a focus on their educational journey and options.

Participants are able to identify the range of Deaf access services options available, when and how these options are utilised.

Participants understand the role of a speech-to-text interpreter as an accessibility professional.

Participants are able to understand shorthand theories and apply them to build their own personal shorthand dictionary.

Participants gain knowledge on meaning-for-meaning and speed-building techniques and are able to apply to their transcription-interpretation work.
Target Audience
Any individuals interested in accessibility work

Teaching faculty in higher education, disability service professionals, students training to be peer access team

For participants based in Singapore

Participants are recommended to have a minimum typing speed of 80 words per minute.
Funding
Registration
Registration is now closed.
Interested to join the next intake?
Fill up this form to be notified once it is launched!
Programme Fee
Early bird registration (on and before 14 July 2022): SGD$200 per pax
Standard registration (after 14 July 2022): SGD$220 per pax
Note: Your place will only be confirmed upon payment, on a first come first served basis. There's no refund of programme fees once paid, unless the programme is cancelled.
Opportunities Upon Programme Completion
Suitable participants will be invited to join Equal Dreams accessibility team. We are open to flexible arrangements including full time, part time, freelance, traineeship or internship.
Trainers' Profiles
Evelyn Chye, Accessibility Specialist, Equal Dreams
Evelyn started learning sign language in 1997 and the beauty of the language led to her involvement with the Deaf Community in 2001. Since then, she has gained a vast and varying exposure to native sign language, Signing Exact English, Signed English, Pidgin Signed English and other sign systems used by the Deaf. 
Wanting to work deeper and more meaningfully with people from different communities, Evelyn pursued the Master's Degree in Counselling and Psychotherapy with Edith Cowan University. Evelyn has been conducting various workshops for children, parent-and-child, youths and the elderly in the community clubs, schools, corporate companies, organizations and churches. After discovering an interest in theatre and the belief that theatre connects people, Evelyn started learning playback theatre in 2010, and has since applied these skills in working with communities. She is a graduate of Leadership in Playback Theatre with Centre of Playback Theatre.
Evelyn also believes that everyone has the right to making informed choices. She is now learning about other forms of accessibility work such as Speech-to-Text Interpreting and blind access.
Today, Evelyn is an Accessibility Specialist with Equal Dreams, an improvisational actor with Tapestry Playback Theatre (Singapore) and a part time Family Life Educator and Social Worker.
Shila Yong, Accessibility Specialist, Equal Dreams
With a free-spirited and self-motivated personality, these qualities led Shila into the rabbit hole to explore the curiosity of a life without sound or music on different frequencies. She marked her first foray into Deaf community by learning Singapore Sign Language. In 2016, Shila was part of the team that started the provision of formalised speech-to-text interpreting service. Being a deep generalist, Shila excels in transcribing for a wide variety of subject matter. With her wealth of experience in speech-to-text services in diverse settings and knowledge in accessibility for the Deaf, Shila has built up comprehensive and robust short-hand strategies for this green field of speech-to-text interpretation. Her professional vision is to build up a collaborative community to develop shared resources to advance accessibility for the Deaf and Blind communities, cultivate meaningful connections and swuplift one another as a community together.
Outside of professional accessibility work, Shila is deeply passionate about natural medicine, ancient folklore and culture, plants, healing and nature, and continues to apply her creativity and keenness for knowledge, as seen in her professional work, to these personal interests.
Contact
You may refer to our FAQs here. 
For more enquiries, please contact us at training@equaldreams.sg.