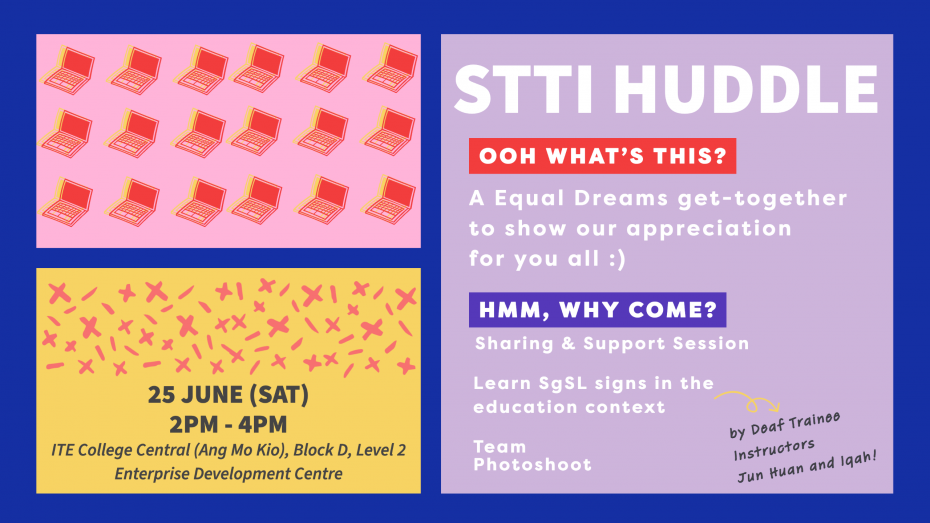 About the Event
Equal Dreams invited our Speech-to-Text interpreters for a get-together after a long period of no meet-ups due to the pandemic.
This event will provide a platform for our team of access workers to get to each other better through games and a sharing session 🎉
There will also be a segment where our Deaf Trainee Instructors will teach our interpreters basic Singapore Sign Language in the education setting.
Refreshments will be provided by Equal Dreams. 
Event Details
Date: 25 June 2022 (Saturday)

Time: 2pm to 4pm

Venue: ITE College Central, 2 Ang Mo Kio Drive, Blk D, Level 2, Enterprise Development Centre, Singapore 567720
Post-Event Video
Video Transcript
Video is 36 seconds long, showing a montage of video clips from Equal Dreams' Speech-to-Text Interpreter Huddle. Chill low-fi beats play in the background.
Header reads 'Speech-to-Text Interpreters Huddle', and the Equal Dreams logo is on the right.
Text: Welcome and Icebreaker
Video begins with staff welcoming the interpreters and conducting an ice-breaker game, where participants are seen putting together a secret message by organising many post-its on a large table.
Text: Learning basic Singapore Sign Language in the education context
Two Deaf young adults, Iqah and Jun Huan, are teaching Singapore Sign Language. They demonstrate the signs and the participants copy them.
Text: Speech-to-Text Interpreter Team Sharing
Participants sit around a table, taking turns to share their experiences in the job. Montage of pictures of the event are shown, ending with a group picture of Equal Dreams' staff and the Speech-to-Text Interpreter team.
---
End of transcript
Descriptive Transcript of the video here
A big thank you to Speech-to-Text interpreters for taking the time to come down and to get to know one another better throughout the event.
Hope all attendees had a ball of a time! Thank you for collaborating with us to provide access for the Deaf community. 
Gallery