Wondering what to do when you engage an access team for your upcoming focus group discussion? We encourage you to work closely with the team who may consist of either or both sign language and speech-to-text interpreters. This way, facilitators and participants can have smooth and fruitful conversations at your event.
Read on for more details!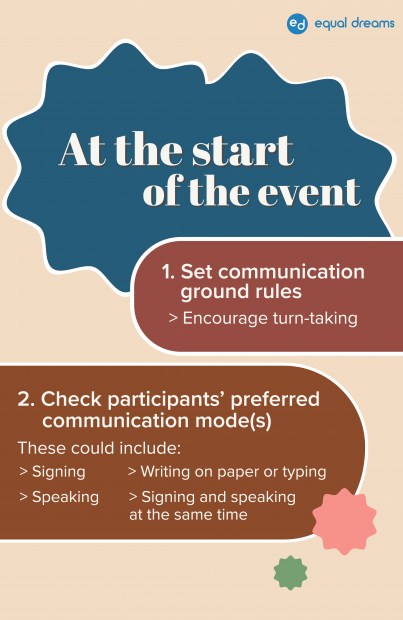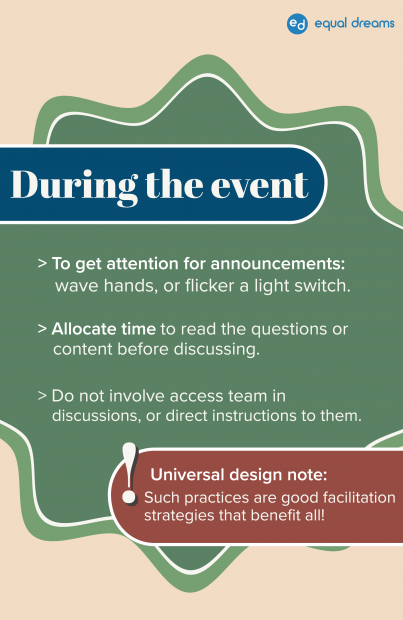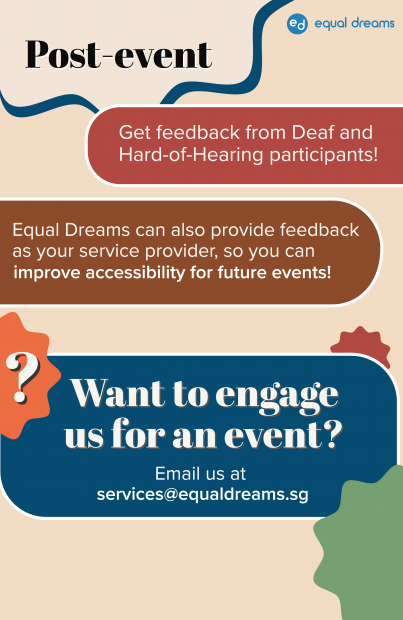 Pre-event Logistics
A. Providing materials to the access team
Providing materials beforehand will give access professionals more context on the topics, and the jargon that might come up. This makes for a more accurate translation, and better facilitation of communication between all parties.
Examples of materials that would be helpful to the team:
Programme flow

Slides

Facilitation questions

List of Deaf or Hard-of-Hearing participants, and their access requirements (e.g. Sign Language or Speech-to-Text interpreting)
It would be great if you could send these over to the team at least one week prior to the event date. 
B. Allocation of sign language interpreters
For breakout groups with Deaf participants who sign, allocation of sign language interpreters should be done by the access team, rather than the organisers. This is why having the participants' names will be helpful, as we can appropriately deploy the interpreters that best fit the overall signing style of each group.
C. Space layout
The space should be roomy enough so that participants, speakers and access team can see each other clearly. Suggestions:
A circular seating arrangement would be ideal.

Ensure there is enough space between participants to sign comfortably.

Logistics like screens or flip charts should be beside the sign language interpreter to allow easy reference to the content. 

Ensure that the speech-to-text interpreter has a table that is ideal for placing a laptop on.
D. Meet the access team early on for stronger collaboration
We understand that some of these considerations may be new to you. We'd encourage you to set up a meeting with us to understand more ​​about your event, and for us to make any recommendations if need be.
If you would like, our team can also be the ones to brief your facilitators on the event day, prior to the start of the event.
At the Beginning of the Event
A. Set communication ground rules for all
Encourage turn-taking, one person at a time. This makes the conversation conducive for all, giving time for people to process comments, while allowing the interpretation processes to be best facilitated.


If reminders to all participants need to be given out, direct them to the facilitators rather than access team. 
B. Respect the communication mode of participants for effective engagement
Check preferences of participants before the discussion starts. Here are some different ways in which a participant may want to communicate:

Writing on paper

Typing

Signing

Speaking

Signing and speaking at the same time
Assign a scribe for each group.

This doesn't just benefit Deaf or Hard-of-Hearing individuals. Drawing on the concept of universal design, do encourage and respect multiple modes of expression, instead of imposing one mode for documentation.

Moreover, the responsibility of documentation should be on the organiser's side.

If you don't have the internal manpower to do this, you can engage our speech-to-text interpretation service. Find out more about this service in

our explainer video

.
If participants are instructed to write things down, please wait for them to finish before you start discussing. A Deaf person who works with a sign ​​language interpreter for example, would have to toggle between writing and looking at the interpreter, making the discussion inaccessible to them.
During the Event
Avoid involving access professionals in the discussion, or directing instructions to them. Their role should be to focus on facilitating ​​communication between parties.


Facilitators should manage turn taking, rather than the access team.

Avoid making mass announcements while group discussions are going on, as this can abruptly interrupt both the discussion and the interpretation processes. Do get everyone's attention first or inform each group individually.

Suggestion: you may wave your hands, or use a light switch to get attention. Let everyone know how you will be doing so at the start of the event.

Give participants time to read through the questions or content presented before speaking, as they cannot look at the content and the interpreter at the same time. 
Tip: Make reference to universal design, such practices are also beneficial to non-deaf participants as good facilitation strategies.
Post-Event
As far as possible, we try to approach service users after the event to collect feedback on our end, specific to our access service provision.
On your end as the event organiser, you may want to collect feedback from your Deaf and Hard-of-Hearing participants, especially if it is your first time engaging them.
It may be useful to request feedback in a more specific, structured way — for example, through a Google form with questions on different aspects of the event. Requesting feedback about the access services provided can be one of the sections.
If you would like, we can also provide feedback from our end from the perspective of the service provider, so that you can improve accessibility for your future events!
Checklist
Are you set up for success and access?
Before the event:
Provide materials to access team

Plan a conducive space layout for discussion

Set a meeting with the access team
At the start of the event:
Brief facilitators on communication ground rules

Inform participants of communication ground rules

Check in with participants their preferred mode of communication 

Assign a scribe for each group 
During the event:
Facilitators to manage turn taking in the group

Give participants time to read content before they share ideas

Give everyone a heads up if a mass announcement is to be made
After the event:
Get feedback from participants

Get feedback from your access team
Additional Resources
We have some public resources on Deaf Access in the context of Higher Education. Some concepts will be applicable to all settings.
Feel free to check it out and share it with your team!
If you would like to request our service for an upcoming event or focus group discussion, reach out to us via our Contact page!