Schedule
Total contact time: 15 hours (1 session per week, total 6 sessions)
Every Saturday, 2.30pm to 5pm
| | |
| --- | --- |
| Session 1 | 21 October |
| Session 2 | 28 October |
| Session 3 | 4 November |
| Session 4 | 11 November |
| Session 5 | 18 November |
| Session 6 | 25 November |
Venue
ITE College Central, 2 Ang Mo Kio Drive, Singapore 567720, Blk D Level 2

About the Programme
Equal Dreams' very first Deaf Empowerment Programme aims to foster self-awareness and empower all Deaf and Hard of Hearing individuals to embrace their identity, strengths, and find place within the Deaf community while fostering their self-growth and the ability to advocate for themselves effectively.
This transformative program employs a series of reflective and introspective exercises to guide participants in exploring their self-identity and personal strengths. It encourages them to consider how these qualities can be harnessed not only for personal growth but also for self-advocacy, enabling them to assert their needs and rights effectively.
Furthermore, the program provides a valuable platform for participants to connect with their peers within the Deaf/Hard-of-Hearing community. These connections offer a source of invaluable peer support and the opportunity to build meaningful relationships with fellow Deaf/HOH youth. Through these interactions, participants will gain a deeper appreciation of their own experiences and a heightened sense of belonging within the Deaf community, equipping them with the confidence and skills needed for self-advocacy.
Check out this video by programme developers and trainers, Tina Li and Patricia Merilo to find out more!
Descriptive transcript of the video here
Learning Outcomes
Gain a deeper understanding of themselves, fostering self-awareness and self-identity as a result of the reflective and introspective exercises.

Through the program's guidance, youths will not only discover their passion and strengths but also be empowered to embrace and utilize these attributes effectively.

Youths will be able to visualize their personal journey more clearly, helping them map out their aspirations with a renewed sense of purpose and direction.

Equipped with a greater understanding of their strengths and self-identity, youths will be empowered to apply these qualities to their journey and goals.
Target Audience
Deaf and Hard of Hearing youths in Tertiary Education (ITE, Polytechnic or University)

For youths aged 15 to 35 
Accessibility
Singapore Sign Language and Speech-to-text Interpretation will be provided. Let us know if you have any other access requirements.
Programme Fee
Early bird registration (on and before 13 October 2023): SGD$30 per pax
Standard registration (after 13 October 2023): SGD$50 per pax
Note: Your place will only be confirmed upon full payment, on a first come first served basis. There's no refund of programme fees once paid, unless the programme is cancelled.
Funding
Eligible persons with disabilities can be reimbursed for the course fees under the Temasek-Trust CDC Lifelong Learning Enabling Fund.
Learn more about the Fund at this website: SG Enable — Temasek-Trust CDC Lifelong Learning Enabling Fund.
Registration
October 2023 intake is now closed.
Trainers' Profile
Tina Li, Social Worker and Counsellor
Tina has been working in the Social Service Sector for 10 years. She is an optimistic person and will never fail to smile. She enjoys watching movies and dramas and observing people on the streets (analysing people's actions). When Tina was young, she was always wondering about her own life and identity. As she struggled through the years, she discovered her strength in being a facilitator through work experiences. Using her acquired skills, she hopes to be able to share her life story to inspire others like her, so that they are empowered to live a happy fulfilling life.
Patricia Merilo, Creative Digital Strategist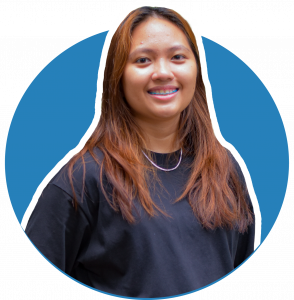 Patricia just entered the working world with lots of uncertainties, but with the certainty to overcome the challenges. She has a keen interest in Digital Media which started off as a pastime of creating travel videos, but never got the chance to pursue in her studies. To gain more experience doing what she enjoys, she joined Equal Dreams. Patricia strives for continual improvement by looking for ways to challenge and develop. With the aim to provide her listening ear and create a safe space for the Deaf and Hard-of-Hearing youths, she hopes they become more determined and feel comfortable in voicing out for the Deaf rights and making the world a kinder place. 
Interested but can't make it for the current intake?
Indicate your interest for a future intake!
Have a question about our course?
Head to the Frequently Asked Questions page for our programmes
Contact
For further enquiries, please contact us at training@equaldreams.sg
Powered By